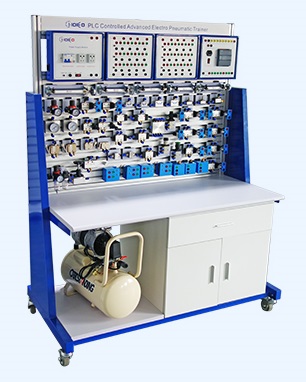 PLC controlled Advanced Electro Pneumatic Trainer
Details
The complete system contains programmable logic controller module, button module, relay module, power supply module, as well as pneumatic control components and actuator components.
The pneumatic training equipment (single side) controlled by PLC adopts an open structure. A variety of real pneumatic components can be flexibly mounted on the operator panel.
The surface of the training board is made of slotted aluminum alloy, which can be placed with all pneumatic components, with quick mounting elastic pins for easy arrangement.
The tubing uses a connecting tube with a quick connector to quickly complete the connection between the pneumatic components, which is convenient and simple.
Training Content
Double acting cylinder reversing loop
Double acting cylinder one-way speed regulation loop
Buffering loop
High/Low pressure converting loop
Electro Pneumatic Trainer can Overload protection loop
Single cylinder continuous reciprocating control loop
Single cylinder single reciprocating control loop
Single acting cylinder speed control loop
Single acting cylinder reversing loop
Double acting cylinder both-way speed regulation loop
Speed changing-over loop
Twice pressure control loop
Counting loop
Electro Pneumatic Trainer can Delay loop
Interlocking loop
Multi-cylinder sequential action loop
Four-cylinder linked action loop
Dual pressure valve application loop
Quick exhaust valve application loop
Unloading loop
OR gate type shuttle valve application loop
Straight line cylinder, double acting cylinder sequential action loop
Two-cylinder synchronous action loop