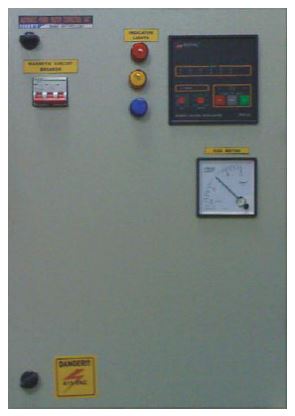 Automatic Power Factor Correction Unit
Model Number: GOTT-PFC-1201
Brand: GOTT
C/O: Malaysia
DESCRIPTION :
This unit is specially developed for use in electrical teaching laboratory for the purpose of demonstrating the basic concept and the operating principle of automatic power factor correction system.
AUTOMATIC POWER FACTOR CORRECTION UNIT
TECHNICAL SPECIFICATIONS
Input : 240/415VAC, 60A, 3 phases, 50Hz
Output : 240/415VAC, 60A, 3 phases, 50Hz to be connected to inductive and resistive loading unit
EQUIPMENT
Unit is equipped with the following:
Switch on/off
Power Factor Regulator / Controller
Capacitor Banks
Circuit Breaker
Magnetic Contractors
Power factor meter 3 phase
Indicating lights 240V
Current Transformer
Safety Terminal Blocks
CONSTRUCTION
Console : Heavy sheet steel
Finish : Baked epoxy powder
LITERATURE
Operation Manual
Manuals:
All manuals are written in English
Model Answer
Teaching Manuals
General Terms:
Accessories will be provided where applicable
Manuals & Training will be provided where applicable.
Designs & Specifications are subject to change without notice.
We reserve the right to discontinue the manufacturing of any product.