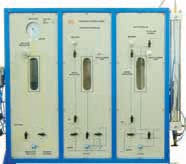 Automatic Pressure System
HEICO Pneumatic Pressure system has two line pressure distribution systems for both Confining and Backpressure with an air/water bladder system with a panel
complete with pressure gauge and outlets for two pressures. The Control panel is a combination of controlled Electronics and pneumatic regulators. There are two independent lines one for confining pressure and the other for backpressure.
A separate Vacuum line with a vacuum regulator and the gauge is also provided for the de-airing of water and vacuum application. A de-airing chamber of 15 Liters is also provided. Both pressures can be set and controlled digitally through a computer. A sensitive volume change sensor fitted with a differential pressure transducer is fixed on one side to measure the change in volume during the test. It consists of necessary valves to measure B-value during saturation.
Confining Pressure: Up to 1000kPa
Back Pressure: Up to 1000kPa
Volume change : 80cc / 200cc
De-airing chamber: 15litres
Compressor : 1000kPa
Vacuum Pump: Creates a vacuum of 70cm mercury
Note: High-Pressure system (Confining and Backpressure) up to 1700kPa can also be supplied as per requirement.