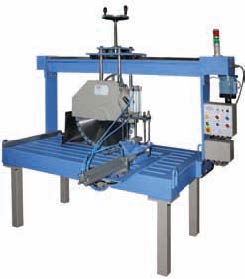 Automatic Rock Cutting Saw
Features
Microprocessor based controlling for speed of cutting and the rotation of the diamond wheel is controlled through VFD.
Suitable for cutting cylindrical and rectangular specimens of Rock, Asphalt, Bitumen, Concrete etc.
2 motors one for cutting of the specimen and the other for feeding of the blade towards the specimen.
'T' slots table bed (Size 500 x 1000mm) for holding irregular specimen size of slot M 12 x 4 Nos
Pneumatic holding device for holding round specimen from 100-150mm 1No.
Variable speed of the cutting blade – 1000-3000 rpm
Diameter of the Diamond wheel – 600 mm
Maximum depth of cut- 200 mm
Feed speed variable from 5mm-50mm/min with Arrangement for inching @500mm/min
Water tank with strainer- 100 liters & Water pump@600 lpm
Safety features- Emergency stops at 2 points, Over load protection for the motor.