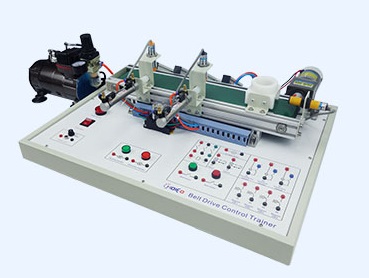 Details
It is designed for connection to a PLC control system with all terminals led out on colorized printed panel top,
pneumatic actuators and controllers are involved in this system which is powered by a minitype compressor
with high convenience.
All pneumatic connections are achieved by quick coupling and 2mm sockets for all electrical wiring.
This unit simulates a belt conveyor system which is driven by a 24V DC gear motor and complete with various
detection sensors. It can convey workpieces on carrier belt and identify each material for final sorting.
Training Content
Understanding how sensors function and operate
Mechanical structure of belt conveyor mechanism
Assembly and functionality of photoelectric, inductive and capacitive sensors
Programming of sorting sequences
Assembly, set-up and testing of pneumatic cylinders and valves
DC motor and reducer control