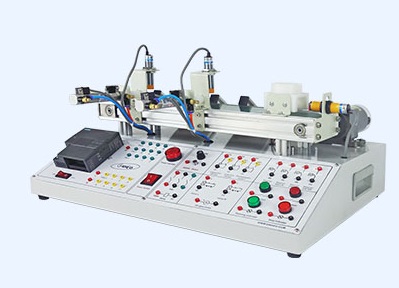 Details
This unit offers a complete control solution for belt conveyor system with full functions, it is designed and built on an extremely small platform, including electrical control system, programmable logic control module, mechanical transfer and workpiece sorting units, pneumatic actuator and detection, etc. The full set is portable with easy carrying design and cushion rubber, perfect for flexible educational purpose.
All terminals are led out on colorized printed panel top, as well as the programmable logic controller. The pneumatic is powered by a minitype compressor with high convenience and the connection is achieved by quick coupling.
The belt conveyor is driven by a 24V DC gear motor and complete with different proximity sensors. It can convey workpieces on carrier belt and identify each material for final sorting.
Training Content
DC motor and reducer control
Mechanical structure of belt conveyor mechanism
Programming languages STL, LAD and FBD
Putting into operation and testing
Assembly and functionality of photoelectric, inductive and capacitive sensors
Assembly, set-up and testing of pneumatic cylinders and valves
Understanding how sensors function and operate
Work with STEP 7 programming software
Creating statement lists