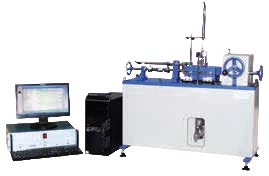 Computer Controlled Direct Shear Apparatus
Conforming to IS: 2720 (Part XIII) & BS 1377 The unit is totally computer-controlled, it has 2 servo motors,
one for shear load and the second for maintaining a normal load. The circuit for a normal load is based on a closed-loop principal.
Salient Features-
• Enables Direct shear tests through a total computer-controlled operation
• Conforms the test requirement of IS-2720 (Part- XIII) & BS 1377
• Programmable Normal stress from 0.01N/mm2 to 0.5N/ mm2 and maintain \ Stress level within the limit of ±0.5%
• Strain rate programmable from 0.00001 mm/min– 9.9999 mm/min.
• Shear box suitable for 60×60 mm sample (Optional 100x100mm sample)
• Online plotting of Load vs Displacement, Load vs Time and Displacement vs Time curves and display of data for all the channels
• Advanced Analysis Software The complete System consists of the following:-
i) Shear Box Assembly
ii) Loading Frame
iii) Shear box assembly, 60 mm square, complete with a U-bracket, guide pins and spacing screws,
made of brass
iv) Gripper assembly consisting of two plain grid plates, two perforated grid plates, one base plate
and one loading pad, all made of brass
v) Two porous stones 6 mm thick, fitting the shear box
vi) Shear box housing of brass, complete with two roller strips
vii) Specimen cutter for the specimen
viii) PC based Control system and Control Software
a. Signal Conditioning and Controlling Unit with Transducers
b. Dedicated Computer for controlling and Data acquisition
c. Control & Analysis software Loading Frame Rate of strain: 0.0001 – 9.9999mm/min
Shearing Load capacity: ±2000N
Displacement range: ±20mm
Normal stress range : 0.01N/mm2 – 0.5N/ mm2
PC BAESD CONTROL SYSTEM AND CONTROL SOFTWARE
The Control system provides the digital control of the motors apply normal stress and shearing load, data acquisition etc. for the continuous operation of the system.
a. Signal Conditioning and Control Unit with Transducers The four-channel signal conditioning and control unit has drive cards that control the operation of the two motors independently to set the normal stress and shearing strain. The Signal conditioning unit also receives the output signal from the various transducers (Load cells and Displacement Transducers) and amplifies and processes that signal as per the requirement and transfer it to the computer through connecting cables where it is accepted by the data acquisition system. The readings of Shearing Load, Normal stress, Horizontal, and Vertical Displacement are directly indicated in the computerized display. The Load is displayed in terms of 'N' with a resolution of 1.0N, Normal stress in 'N/mm2' with resolution of 0.01 N/mm2, Horizontal Displacement, and Vertical Displacement in terms of mm with a resolution of 0.01mm each. Three analog output voltage points for each channel with the ground is also provided in the unit.
Transducers Specification: –
1 Load Cell
• Capacity: 2000N
2. Linear Variable Differential Transformer (LVDT) Type (2 No.s):-
• Stroke: ± 20mm
b. Dedicated Computer for controlling and Data acquisition
The system is provided with a dedicated computer with a built-in data acquisition card. The broad specification of the computer and the data acquisition card is given below. (Note- The latest available model of the computer will be supplied at the time of delivery)
c. Control and Analysis Software Control software is an integral part of the system for precise controlling & Data Acquisition and analysis.
Salient Features-
• Windows-based user-friendly software
• Programmable Rate of shearing and Normal stress
• On-Line Data Acquisition from Signal Conditioning Unit to Computer
• Computer/Software programmable Safety Limits for each load & displacement
• Independent Taring of each channel
• Facility to Load and Unload the specimen at a specified rate
• Facility to hold the shearing loading and restart the loading during the test.
• Facility for Inching and release for adjustment of the gap
• On-Line Data Acquisition from Signal Conditioning Unit to Computer
• On-line display of readings of Shearing
Load, Normal stress, Horizontal and Vertical Displacement
• On-line display of Shear Load v/s Horizontal Displacement & Vertical Displacement v/s Horizontal Displacement graphs
• Auto adjustment of graph scales
• Calculations of various parameters
• Facility to save the data after the test Analysis Software
• Off-Line Data Analysis Software that does all the calculations of the Direct Shear Test as per IS:2720 Part VIII.
• Has an option for manual as well as automatic recording of data.
• Calculates Area, Volume, Bulk density, Dry density, Moisture content, etc. of the specimen
• Display the following Plots (Graphical)
(a) Horizontal Displacement vs Shear Force
(b) Horizontal Displacement vs Vertical Displacement
(c) Normal stress vs Shear Force
(d) Maximum value of the Dilation Angle