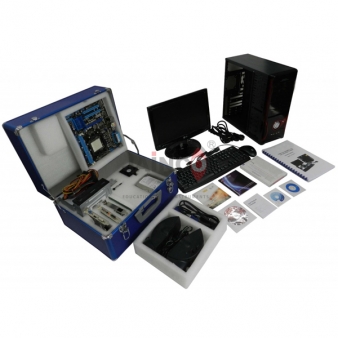 Computer System Servicing Trainer In PC Assembly Kit
Model Number : GOTT-COM-SYS-SER
Brand: GOTT
DESCRIPTION
The Computer Systems Servicing Trainers come complete with all components required to build a state of- the art Personal Computer in kit form. These trainers are ideal for classroom training and projects and can be used to teach students in advanced troubleshooting techniques to evaluate isolate and identify several malfunctions down to the board or module level. The student may practice build up and assembly exercises and when the fully operation computer, the trainer can then be used for further training in maintenance and troubleshooting. Upgrading exercises can be performed such as memory, DVDROM, video graphics cards and sound cards. The training program matches with the CompTIA A+ certification requirements and comes with a special preparation Textbook and manual for the A+ program. The Students will learn about the components that make up a PC system, how to assemble and test the components in order to form an operational system, how to take measurements using a digital multimeter, how to modify the BIOS, develop a mastery of the latest operating systems and learn basic system servicing using our special electronic
FEATURES
Computer Systems Servicing Trainer in PC Assembly Kit with case, mother board, Hard disk drive, video display unit, keyboard, power supply etc.
A comprehensive text Book on building and repairing computers and preparing students for CompTIA A+ competency.
Trainer manual including lesson Plans including materials list, background information, reading assignments and lesson objectives.
PowerPoint presentations for instructor narratives for students.
Student Jobs Sheets containing detailed hands-on exercises.
Electronic Fault insertion and removal System (FIRM).
SPECIFICATION
Unit comes complete with following components:
Mother board: Intel, 2GB RAM includes bios
Processor: Intel Pentium 2 Core
CPU clock source: Clock Generator
Monitor: Widescreen LED
Video card: 1GB of RAM with MPEG utility
Hard Disk Drive: SATA
DVD-RW SATA
Ports: Serial parallel, mouse, keyboard, video
Power Supply and Computer case
Sound card
Speakers
Cables: Power cord, keyboard cable, SATA cables for internal connections.
Ageneral Specification
Operation Condition
0°C to 45°C , 85% or Less (R.H.)
INPUT POWER
AC 220V – 240V, 50/60Hz, 1-Phase (or AC 110V, 50/60Hz 1-Phase by Order)
Manuals :
All manuals are written in English
Theory Manual
Experiment Manual
General Terms :
Accessories will be provided where applicable.
Manual & Training will be provided where applicable.
Design & specifications are subject to change without notice.
We reserve the right to discontinue the manufacturing of any product.
Warranty: 2 Years