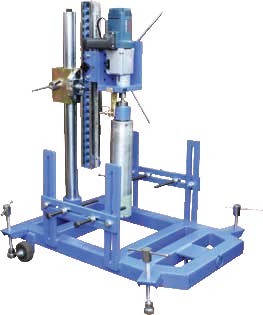 Core Drilling Machine
Compact and mobile, 'Core-drill' machine drills through hard rock, concrete, bitumen, tiles, marbles etc. and takes out cores for the preparation of laboratory samples.
Drive is through a powerful multi speed motor.
It can easily cut cores upto 150 mm dia.
The total assembly move on a pillar to adjust the tip height of the bit.
Pillar is fixed on to a base with two wheels for site shifting.
Geared motor moves on a slide and the slide can be rotated through 360o. Travel of the geared motor is approximately 600 mm and the cores of 400-450 mm can be easily taken out in single operation
Power of the Motor : 2500 Watts
Multiple Speeds (3 speeds) : 500,1200,2000 rpm
Power Supply : 230 Volts, 50 Hz AC.
Continuous Running time without damage to bits & barrels : 30 minutes