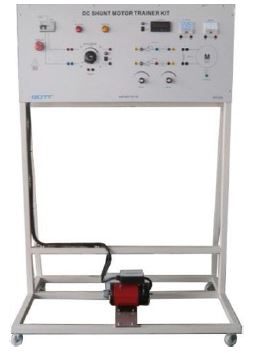 DC Shunt Motor Trainer
Model Number: GOTT-DCSH-033
Brand: GOTT
C/O: Malaysia
DESCRIPTION
This DC Shunt Motor Trainer represents a cross section of common industrial motors. Each motor module includes a welded aluminum mounting baseplate, aluminum control box support structure, and a steel control enclosure. All motor wiring is accomplished through banana jack receptacles on the control enclosure's front panel face. Each unit comes equipped with an appropriate voltmeter and ammeter. Four instructor fault insertion switches are provided on each motor module. An optional motor loading module attaches to each motor unit using a flexible coupling provided with the loading module.
SPECIFICATION
Input Voltage: Fixed 240VDC and Variable 0 to 240VDC supply
Protection : 20A
Sensitivity : 30mA
Machine type: DC Shunt, 0.5HP, 1500rpm
Complete with voltmeter : 300V, ammeter : 1A & 5A, tachometer : up to 20,000rpm
Capable of performing the Speed Control of DC Shunt Motor Trainer using Field Current & Armature Voltage Control method
EXPERIMENT TOPICS :
Basic Shunt Motor Connection
DC Shunt Motor with Field Winding Resistance
DC Shunt Motor with Armature Winding Resistance
Speed test for DC Shunt Motor
Voltage & Ampere reading with DC Shunt Motor
Manuals:
All manuals are written in English
Model Answer
Teaching Manuals
General Terms:
Accessories will be provided where applicable
Manuals & Training will be provided where applicable.
Designs & Specifications are subject to change without notice.
We reserve the right to discontinue the manufacturing of any product.