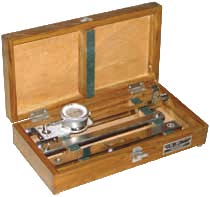 Deformeter, Gauge length 250 mm
The equipment includes the following:-
i) Deformeter with a gauge length of 250 mm centre to centre of conical points and fitted with 0.002 mm x 10 mm dial gauge – 1 No.
ii) Standardization Bar for 250 mm gauge length 1 No.
iii) Spacer bars with threaded holes for gauge pins 250 mm centre to centre – 2 Nos.
iv) Standard Gauge pins 12 mm square, with threads at one end having a conical seating for reference points. 4 Nos.
v) Necessary tools. Complete as above in a polished wooden box.