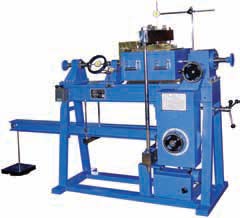 Direct Shear Apparatus, Large, Motorised
This is required for testing 300 mm x 300 mm x 150 mm soil sample containing gravel with particle size more than 4.75 mm.
Optional
100mm shear box assembly complete with porous stone and gripper plate
The unit provides 72 different constant rates of strain for shear load ranging from 0.0014 mm/min. to 10.16
mm/min and is suitable for carrying out residual shear strength test.
The equipment comprises of the following :-
i) Loading Unit having a normal load capacity of 3kg/cm2 through lever and shearing load capacity up to 5000 kg maximum.
ii) Shear box assembly in two halves, complete with two guide pins and three spacing screws.
iii) Shear box housing, complete with two ball roller strips.
iv) Two perforated gripper plates.
v) Two plain gripper plates.
vi) Two plain grid plates, one for top and one for the bottom.
vii) Two perforated grid plates one for top and one bottom.
viii) One base plate.
ix) One loading pad with lifting handles.
x) One set of slotted weights to give a maximum normal stress intensity of 3 kg/cm2 on the specimen through lever system. Suitable for operation on 220 V, 50 Hz, single phase supply. Supplied without Proving Ring and dial gauges which are to be ordered separately.
ACCESSORIES & SPARES :
HS29.15 Dial Gauge 0.01 x 25 mm for consolidation measurement.
HS29.20 Dial Gauge 0.01 x 50 mm for horizontal strain measurement.
HS30.241 3000 kg Proving Ring for shear load measurement.
HS30.245 5000 kg Proving Ring for shear load measurement.
HS24.20.1 Perforated gripper plates set of two.
HS24.20.2 Plain Gripper plates set of two. S-35
HS24.20.3 Grid plates plain set of two.
HS24.20.4 Grid plates perforated set of two