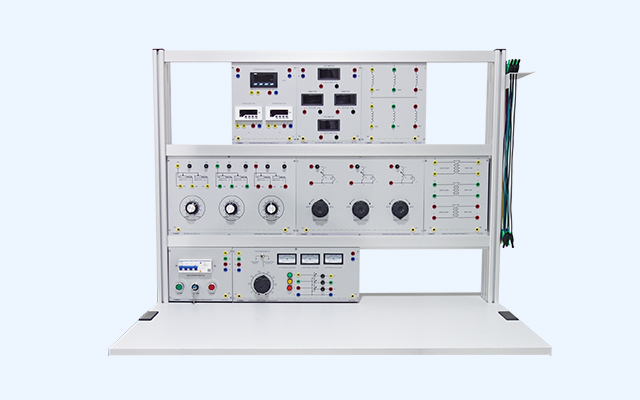 Electrical Transformer Trainer
Model: CET-301
Brand: CHOIEO
C/O: China
This trainer is designed to meet the operation training of electrical transformer, covering a variety of training topics for single-phase and three-phase characteristics, as well as parametric measurement.
The frame adopts a standard aluminum profile with a modular experiment panel design, thus, making it easy to build different experiment combinations on the flexible two-layer structure. All the upper parts are removable including the experiment module, power supply module, and frame support.
All terminals are led out on a printed composite panel with a 4mm safety socket and connected by full sealing sheathed pluggable connector. The complete unit is movable with lockable truckles on the bottom and available for training content extension by using other CHOIEO modular electrical units.
> Training Content
Single Phase Transformer
Measure the single-phase transformer ratio and parameter by no-load and short circuit experiment
Draw out the T type equivalent circuit diagram according to parameters be measured from no-load and short circuit experiment
Measure the running characteristic of the transformer by load experiment
Parallel operation of the transformer (polarity discrimination, parallel two transformers)
Three Phase Transformer
High / Low voltage winding discrimination, primary / secondary polarity measurement
Measure the three-phase transformer ratio and parameter by no-load and short circuit experiment
Three-phase transformer Y-y12 connection
Three-phase transformer Y-y6 connection
Three-phase transformer Y-∆11 connection
Three-phase transformer Y-∆5 connection
Voltage vector diagram of the three-phase transformer under different connections
>CONFIGURATION
Mobile aluminum experiment stand
High compressed chipboard tabletop & base plate
Solid impact-resistant protective edging
6 extruded aluminum profiles with 8 grooves
3 H-shaped profiles for panel Organization
4 swiveling casters, 2 of which have brakes
Table & upper frame part separable for easy delivery
Cable holder attached to side column for at least 48 cables pcs
EDY-001 Three-phase power supply
RCCB – Momentary pushbutton with lamp, green/red
Key switch, 1NO/NC
AC contactor – Input CEE socket, output 4mm safety socket
Standard size available for frame insertion
EDY-002 Three-phase voltage regulator
1KW regulator, 0…450V, 0…250V variable output -Fuse protectors 2A
Indicating lamp R/GY
Output voltage monitoring meter x3
Selective input and output voltage display
Standard size available for frame insertion
ET-101 Single-phase transformer 1.0
PN=77W, UN=220V/55V, IN=0.35A/1.4A
Transformer x3
With all terminal led to colorized 4mm safety socket
Standard size available for frame insertion
ET-301 Three-phase transformer 1.0
PN=152/152/152W, UN=220V/55V, IN=0.4A/1.6A
With all terminal led to colorized 4mm safety socket
Standard size available for frame insertion
EB-310 Power & Power factor meter 1.0
Single-phase active power meter, digital, 0…1000W x2
Power factor meter, digital, 380V/5A
With all terminal led to colorized 4mm safety socket
Standard size available for frame insertion
EB-110 AC voltmeter & AC ammeter 1.0
Voltmeter digital ACO…450V x2 – Ammeter digital ACO…3A x2
With all terminal led to colorized 4mm safety socket
Standard size available for frame insertion CHC
EG-010 Inductive load 1.0
Auto former regulator 0..250V with fixed inductor group x3
Inductance value 1H, adjustable, 0.48A
Fuse protectors x3
With all terminal led to colorized 4mm safety socket
Standard size with handle available for frame insertion
EZ-010 Resistive load 1.0
Double-linked resistor x3
Each with variable range 0…9002, 0.41A
Fuse protector x6
With all terminal led to colorized 4mm safety socket
Standard size with handle available for frame insertion
Accessories
Safety whole sealing cable: conductor cross-section: 16AWG tinned copper wire, 3kV, 20A, with axial socket
Experiment guidebook