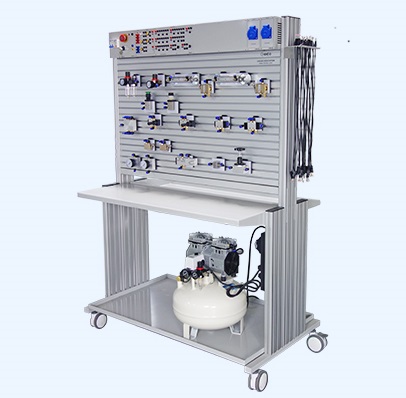 Details
Top part as the electrical control unit, which is composed of AC power supply unit, DC power supply unit, control unit, relay unit and AC sockets.
Grooved plate is used to allow pneumatic components be mounted easily on any position vertically or horizontally, by using elastic mounting base board on each component.
The system structure can be extended to double sided training system easily upon request (additionalpurchase for air compressor and electrical part only), by this way to realize training for two groups on one frame system.
This is a flexible electro pneumatics teaching system, with aluminium profiles and powder coated sheet steel as the frame material, universal and silent castors are adopted to achieve movable ability.
Fast connecting coupling is adopted for the quick connection between pneumatic tube and pneumatic components without leakage.
Training Content
Double acting cylinder reversing loop
Double acting cylinder one-way speed regulation loop
Speed changing-over loop
High/Low pressure converting loop
Overload protection loop
Single cylinder continuous reciprocating control loop
Delay loop
Single cylinder single reciprocating control loop
Buffering loop
Double acting cylinder both-way speed regulation loop
Single acting cylinder speed control loop
Single acting cylinder reversing loop
Twice pressure control loop
Counting loop
Interlocking loop