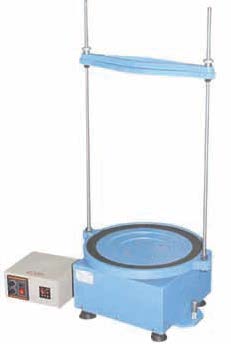 Electromagnetic Digital Sieve Shaker
HEICO has recently developed Electromagnetic Sieve Shakers for high performance and precision sieving tests on soil & other engineering material. These Sieve Shakers are simple in design and easy to use, operated by electromagnetic action providing 3 axis vibrations (vertical, lateral and rotational). The sturdy sieve table can accommodate a maximum of eight sieves of 150 mm or 200 mm diameter. To hold the sieves an adjustable top clamping plate is provided.
A digital control panel is provided with the shaker to set the vibration, frequency of vibrations and timer to set the time from 1 to 999minutes.
Suitable for operation on 220 V, 50 Hz, single phase supply.
Accessories
Adopter for 300 mm dia sieves.