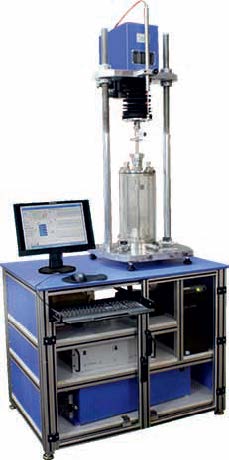 Electromechanical Cyclic Triaxial Test System For Soils
Meets the essential requirements of ASTM-311/3999
This Model is similar to HS28.610 except for an Electromechanical Actuator in place of a Hydraulic Actuator for dynamic loading, thus making the system more compact and less noisy (Hydraulic Powerpack is not required) with maximum test frequency up to 5Hz with the peak to peak amplitude of 4mm and dynamic loading from ±50N to ±10kN.
The main parts of the system are:-
Load Frame with Electromechanical Actuator
Triaxial Cell with accessories
Automatic Pressure system with Compressor & De-airing system
PC based Control system and Application Soft ware
Broad Specifications of each module is given below-
Load Frame
Loading Frame is a free-standing two pillar type, table-mounted unit. It has a base and a crosshead fitted with an electromechanical actuator along with a servo motor. The crosshead carrying the Actuator and motor assembly for conducting dynamic tests is movable on threaded columns to adjust the height of the sample. The arrangement is also provided for the locking of the crosshead at any desired position. Static and dynamic loading is fully computer-controlled. It can accommodate Triaxial cell for sample sizes up to 100mm diameter & 200mm height.
Technical Specifications
Frame Capacity: 50kN
Actuator capacity: ±10kN
Triaxial Cell accommodate : Up to 100mm diameter & 200mm height
Horizontal clearance : 350mm
Vertical clearance: 900mm
Stroke Length : +/-25mm
Frequency : 0.01Hz-5Hz
Cyclic Loading range: ±50N – ±10kN
Performance: 4mm peak to peak amplitude at 5Hz frequency
Note: Higher capacity Actuators up to ± 20kN can also be provided on request.
Triaxial Cell with accessories
Automatic Pressure system with Compressor & De-airing system
PC based Control system and Application Software

Signal Conditioning and Controlling Unit with Transducers
A computer for Controlling and Data acquisition
Control & Analysis software