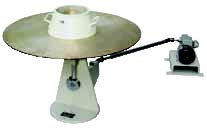 Flow Table (Hand Operated)
Used for determination of fluidity of cement concrete mixture where the nominal size of aggregate does not exceed 38 mm.
It consist of the following ;-
A brass table top 762 mm dia, finely machined at the top and having reinforcing ribs at the bottom.A vertical shaft is fitted to the underside of the table in the centre.ii) A steel frame with machined base and a polished smooth vertical hole for the table shaft. A horizontal shaft carries a cam at one end and a hand wheel at the other. The cam is adjusted to give a free drop of 12.5 mm to the table top.
A conical mould in the form of frustum of a cone 250 mm inside dia at base, 170 mm inside dia at top and 120 mm high. It is provided with two lifting handles.