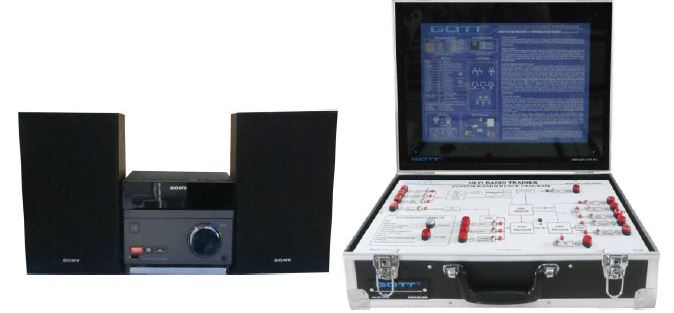 HI-FI Radio Trainer
Model:HIF-55
Brand: GOTT
C/O:Malaysia
DESCRIPTION
The HI-FI Radio Trainer is an educational instrument. Similarly designed for the theoretical/practical study. And workings of a mini component system player. As well as the operation of DVD-format digital video and audio signals, and digital audio in CD format additionally. The functional structure of the equipment also enables its internal composition finally. to be observed ,the various signals involved in its operation as well. And also analyzed by means of a block diagram and faults introduced. As a result the student can learn diagnostic methods and also know how to locate breakdowns. The trainer also includes a MINI HI-FI COMPONENT SYSTEM player using the latest digital signal processing technology, and offering the best features found on the market today.
GENERAL SPECIFICATION
Operating Conditions- 0 to 45°C, 85% or Less(R.H.)
Input power- AC 240V, 50Hz 1-Phase
PRODUCT SPECIFICATION
Signal Format- PAL/NTSC
Disk Player- DVD VIDEO, CD VIDEO and CD AUDIO
Audio & Video Output- Coaxial Digital Out, Audio Line Out and also Video Line Out
Sound System -DTS and Dolby Digital
BLOCK DIAGRAMS
The block diagrams consist of the following functional modules:
Firstly Eject Tray
Secondly Optical Unit (Pickup)
Thirdly RF Block Servo systems
Drivers
System Control
Keyboard, Remote Control and Display
Power Supply
Digital Processor
Finally Video Processor and
Audio Processor
In the same way The fault simulator enables malfunctions to be introduced into the MINI HI-FI COMPONENT SYSTEM DVD & CD player, thereby simulating a large number of real breakdowns.
EXPERIMENT TOPICS :
Eject Tray
Spindle Motor
Stepper Motor
Infrared Receiver
VFD (Vacuum Fluorescent Display)
Y (Component Video)
Pb (Component Video)
Pr (Component Video)
Video Out
Audio In
Left Speaker and
Right Speaker
Manuals:
All manuals are written in English in brief
Model Answer and
Teaching Manuals also
General Terms:
Accessories will be provided where applicable accordingly.
Specifically Manuals and Training will be provided where applicable.
Designs and Specifications are subject to change without notice.
We also reserve the right to discontinue the manufacturing of any product.
Please see more products
Please visit our Facebook page