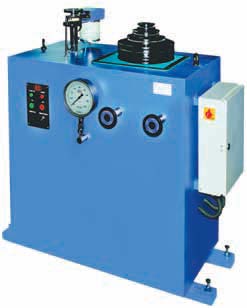 High Pressure Controllers
The Controllers are designed to maintain confining pressure at the set value with the help of dead weights irrespective of any deformation that takes place during testing of the specimen. A series of relays are provided for automatic actuation of the main pumping unit depending upon the volume change in the specimen. A small fractional horse-power geared motor eliminates any static friction, by rotating the measuring ram.
All the electrical controls are easily accessible and are mounted on the front panel.
The unit operates on 440 volts, 3 phase, 50 hz supply:
7 Mpa in steps of 0.1 Mpa
15 Mpa in steps of 0.2 Mpa
35 Mpa in steps of 0.5 Mpa
50 Mpa in steps of 0.5 Mpa
70 Mpa in steps of 0.5 Mpa
Note : Higher Pressure Controller on request.