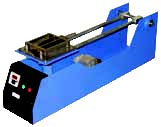 Jolting Apparatus
Used for molding of three standard specimens of 40 mm x 40 mm x 160 mm size from Portland and Pozzolana cement mortar for determination of their transverse strengths. The equipment consists of the following: –
A motorised Jolting Machine, as per IS 10078 specifications, which gives 60 jolts per minute to the rectangular table through a reduction gear.and cam drive. A pre-set type counter with a micro switch stops the machine automatically after 60 jolts. The rectangular table has guide pins for properly locating and clamping the moulds.
A three compartment mould for preparing three specimens of 40 mm x 40 mm x 160 mm size.
A three compartment hopper which can be mounted on the mould for pouring the mortar in to the mould.
Suitable for operation on 220 V, 50 Hz, single phase supply.