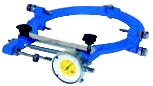 Lateral Extensometer (150 mm dia)
For measuring the lateral extension of 15cm dia concrete cylinders during the compression test.
The apparatus consists of two semicircular frames pivoted at one end and carrying a dial gauge of 0.002 mm x 5 mm range at the other. Four clamping screws are provided for initial setting of the instrument. The dial gauge records the deformation readings magnified 2.5 times.
Supplied complete in a wooden box.