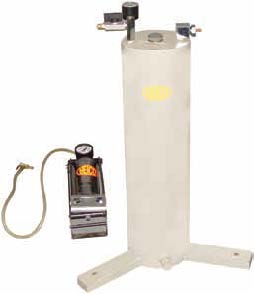 Lateral Pressure Assembly (0-10 kg/cm2)
It is a steel chamber that can be pressurized to the required pressure with foot pump. It has a pressure gauge, water inlet and outlet valve.
Self Compensating Pressure Apparatus (Oil/Water Type)
The system uses a hydraulic accumulator having a rotating ram, carrying dead weights to provide pressure in increments of 50kpa. During operation, the pump is driven continuously by an electric motor to maintain the desired pressure. Required pressure is achieved by keeping combination of marked dead weights on the rotating ram. A 100 mm dia pressure gauge is fitted on the top of the interchange vessel. All components are fitted on a common base plate, which carries four leveling screws for leveling the apparatus. This type of system is ideal for short duration tests.