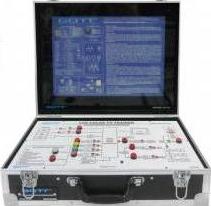 LCD Color TV Trainer
Model Number : GOTT-LCDTV-078
DESCRIPTION:
The GOTT-LCDTV-078 is an ideal piece of training equipment to teach the operation of color LCD TV receivers, which allows the student to familiarize himself with the most advanced technological innovations. The tutor includes a fault generation module and a trainer for the I2 C Communications Bus. The block diagrams of the GOTT-LCDTV-078 intuitively show the different modules which make up the color LCD TV receiver. Its large number of test points allows the analysis and monitoring of the electric signals in the different functional blocks of the receiver. It is safe to operate since all the test points are protected against possible accidental short-circuits. Using the fault module it is possible to simulate the most common faults which can occur in the receiver with thus establishing methods of diagnosis and tracing. The trainer moreover incorporates a microcontroller which makes it possible to carry out practices related to the operation of the I2C communications BUS. Special attention has been paid to its design, obtaining a small-sized functional piece of equipment. Moreover, in its rest position, it can be used as a domestic desktop TV.
FEATURES
COLOR TV RECEIVER
Screen PAL B/G/I and SECAM B / G / L / L' systems.
NICAM audio digital system (PAL G, PAL I, SECAM L)
On Screen Display (OSD)
Tuning by synthesis of manual voltage or auto store through search and automatic memorization
Infrared remote control
LCD screen
Block Diagrams
Power supply
Microcontroller
Sound
Video
System
IF and demodulator
FAULT SIMULATOR
Tuner
AGC
Video In
Audio In
Video Out
Audio Out
IR Receiver
Audio Amp
E-EPROM
Red
Green
Blue
GENERAL SPECIFICATION
Operating Conditions: 0 to 45°C, 85% or Less (R.H)
Input power: AC240V, 50Hz 1-phase
EXPERIMENT TOPICS :
Test Point Measurement
Troubleshooting the Tuner and Tuner Control Circuit
Troubleshooting the RGB Amplifier Circuit
Troubleshooting the Sound Circuit
Troubleshooting the E-EPROM Circuit
Troubleshooting the Remote Control Circuit
Troubleshooting the Video In and Audio In Circuit
Troubleshooting the Video Out and Audio Out Circuit
Manuals:
All manuals are written in English
Model Answer
Teaching Manuals
General Terms:
Accessories will be provided where applicable.
Manuals & Training will be provided where applicable.
Designs & Specifications are subject to change without notice.
We reserve the right to discontinue the manufacturing of any product.
Warranty: 2 Years