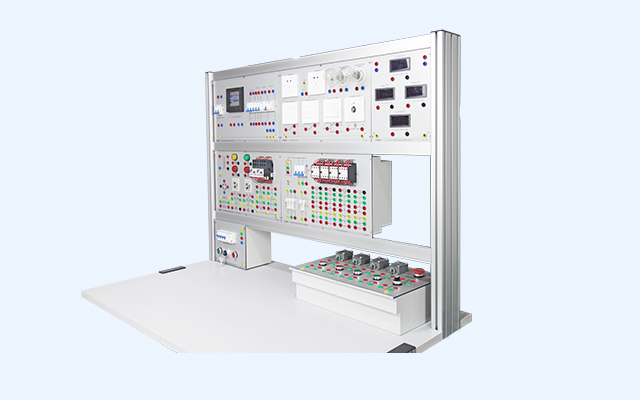 Overview
This trainer is designed to meet the operation training of electricians for low voltage conditions, covering a variety of training topics for typical electrical control and lighting control.
All terminals are led out on a printed composite panel with a 4mm safety socket and connected by full sealing sheathed pluggable connector. The complete unit is movable with lockable truckles on the bottom and available for training content extension by using other CHOIEO modular electrical units.
The frame adopts a standard aluminum profile with a modular experiment panel design, thus, making it easy to build different experiment combinations on the flexible two-layer structure. All the upper parts are removable including the experiment module, power supply module, and frame support.
Training Content
Electrical Control
Self-locking control circuit
Three-phase dual speed motor control circuit
Inching control circuit
Three-phase asynchronous motor dynamic braking circuit
Inching and self-locking control circuit
Contactor interlock controlled three-phase asynchronous motor forward and reverse control circuit
Three-phase asynchronous motor Y-Δ starting control circuit
Button/Contactor interlock controlled three-phase asynchronous motor forward and reverse control circuit
Three-phase asynchronous motor sequential starting reversed sequence stop control circuit
Remote / local / multi-place start-stop control circuit
An automatic round trip control circuit
AC contactor controlled three-phase asynchronous motor sequential starting circuit
Reduced voltage starting control circuit of a three-phase asynchronous motor with a series resistor
Time relay controlled three-phase asynchronous motor sequential starting circuit
C620 lathe machine electrical control circuit
Lighting Control
Energy meter wiring
Two switches control two incandescent lamps
Two dual-control switches control one incandescent lamp
Breaker wiring
One switch controls two incandescent lamps
Socket wiring and breaker protection control
Sound-light control circuit
One switch controls one incandescent lamp