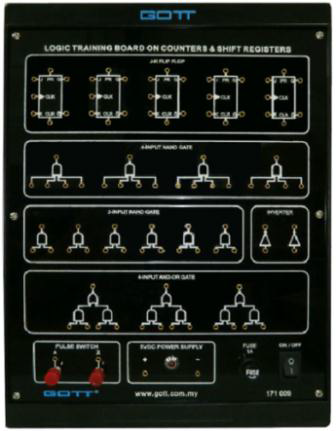 Modular Electronic Engineering Trainer
Model: GOTT-MEET-378
Brand: GoTT
C/O: Malaysia
LOGIC TRAINING BOARD ON COUNTERS & SHIFT REGISTERS GOTT-LTBO-02
CODE 171-009
DESCRIPTION
Backed by the rich experience and a competent team of innovative experts, we are able to offer Logic Training Board On Counters & Shift Registers. The offered range is known for studying counters & shift registers and making the students familiar with design and practical aspects of all types of counters, shift registers and their applications in digital circuits. Possessing gates and flip-flops, the offered range is best suited for developing construct any type of counter, shift register and allied. Along with this, the offered range possesses decoder and seven segment display that aid in tracking the output of each circuit. This training board can conduct around 25 different experiments that cover logics, counters and register devices.
LOGIC TRAINING BOARD ON OR/NOR, OR/NAND, NOT BUFFER GOTT-LTBO-01
CODE 171-010
FEATURES
The board consists of the following built-in parts:
+ 5V D.C. at 500mA, IC Regulated Power Supply internally connected.
Two, 3-input NAND gates followed by an inverter to give 3-input AND/NAND gates.
Two, 3-input NOR gates followed by an inverter to give 3-input OR/NOR gates.
Two, NOT gates followed by another NOT gate to give BUFFER outputs.
Switches for logic selection.
LEDs for visual indication of status.
Adequate no. of other Electronic Components.
Mains ON/OFF switch, Fuse and indicator.
Input voltage: 230V ±10% at 50Hz A.C. Mains.
With 4mm stackable patch cords.
Good Quality, reliable terminal/sockets are provided at appropriate places on panel for connections/ observation of waveforms.
OSCILLATOR LAB TRAINING KIT GOTT-OLTK-01
CODE 171-007
DESCRIPTION
To study the oscillator frequency and waveform generated by the Wheatstone Bridge Oscillator.
Use potentiometer to control the oscillation of the Wheatstone Bridge Oscillator. FEATURES
Instrument comprises 12V DC Regulated Power Supply.
Circuit diagram and test points are designed on front panel for easy to carry out and understand the experiment
SUPERPOSITION THEOREM TRAINER KIT GOTT-STRK-01
CODE 171-005
FEATURES
Variable power supply 12 V@ 500 mA
Circuit diagram on front panel
With 4mm stackable patch cords
Primary = 230VAC / 50Hz
A fixed 12 V Dc power supply provide to resistor network
Current range = 200mA
Two 'T' Type networks provided to study both AC & DC network
Circuit diagram for AC & DC networks designed on front panel
TWO PORT NETWORK TRAINER KIT GOTT-TPNT-01
CODE 171-001
DESCRIPTION
Two Port Network Trainer has been designed specifically for the Two Port Network analysis. This is useful for students to study the operation and behavior of any two-port network under several operating conditions. The study of two-port network is very important as they form the building block of most electrical systems. On this training system, we can calculate various parameters under open circuit and short circuit conditions. Experimental calculations of Z-Parameters, Y-Parameters and ABCD-Parameters of a two port network can be easily measured. Built-in with DC power supply.
FEATURES
Easy experimental illustration of Two Port Network analysis
Built-in +12 V and +5 V DC Power Supplies
Low cost
THEVENIN'S & NORTON'S THEOREM TRAINING KIT GOTT-TNTK-01
CODE 171-004
FEATURES
Variable power supply 12 V@ 500 mA
Circuit diagram on front panel.
With 4mm patch cords. This trainer consists of variable resistor source, to study the theorem in both DC & AC network.
With potentiometer provided to vary voltage drop in the circuit.
Two 'T' type network provided for AC & DC circuits.
Thevenin's & Norton equivalent circuit design on front panel for easier to perform the experiment
Patch connectors provided for circuit connection in different experiment.
Detailed experimental manual.
Attractive housing.
TRANSISTOR TRAINER KIT GOTT-TTK-01
CODE 171-002
FEATURES
A characteristic of Transistor is a versatile and well-designed self-contained trainer kit. It is a useful training tool for the teacher and the students for basic electronics.
Completely self-contained stand-alone unit.
Built-in dedicated circuit for each mode with transistors and other necessary components.
Built-in two isolated DC regulated variable power supplies with fuse protection.
Mains ON/OFF switch with LED indicator.
4mm test points are designed at various stages in the circuit to measure the waveforms.
Provision for connecting external volt meter/current meter as per requirement.
Housed in an elegant ergonomically designed powder coated metal cabinet with a well spread intelligently.
Designed circuit layout on the front panel.
Working on 230V, 50Hz, single phase AC mains.
OP AMP TRAINING KIT GOTT-OATK-01
CODE 171-008
DESCRIPTION
High quality OP AMP Training Kit is offered by us. This OP AMP Training Kit is fully loaded with the latest features. Perfectly fabricated with the highest grade components, OP AMP Training Kit provided by us is known for its high performance and accurate results. Students find it easy to understand the concepts with our OP AMP Training Kit. FEATURES Completely self-contained stand, alone unit Built in IC based DC regulated power supply Test points provided on panel at various stages in the circuit Set of required number of Patch cords Strongly supported by a comprehensive instruction manual complete with theory and operating details.
ELECTROMAGNETISM TRAINER GOTT-EMT-01
CODE 171-012
DESCRIPTION
The Electromagnetism Trainer provides an introduction to the application of electromagnetic fields through the use of devices. It is a practical, hands-on, component level trainer on which elements of the system are presented clearly and logically.
Requires a 1-100 Power Supply
FEATURES
A glass fiber laminate PCB
Housed in a plastic tray, designed to fit into a console based system
Introduces the principles of electromagnetic components
All components have a simple mimic printed on the board
GPS TRAINER GOTT-GPST-143
CODE 143-000
DESCRIPTION
L1 Frequency, C/A code, 51-channel High Sensitivity : Up to -158 dBm tracking, superior urban performances
Position Accuracy: < 3m CEP (50%) without SA (horizontal)
Cold Start is Under 36 seconds (Typical)
Warm Start is Under 34 seconds (Typical)
Hot Start is Under 1 second (Typical)
Update Rate: 5Hz (Default: 1 Hz)
Pin header Connection for easy to assemble
Low Power Consumption : 55mA @ acquisition, 40mA @ tracking
9600 baud rate Serial Transmission
Built in RS232 Level Converter (MAX232) provided in 9 Pin D type connector
Windows based software support GPS Status, Signal Level, Sky chart constellation of SV,
All interconnections are made using 4mm banana Patch cords.
Test points are provided to analyze signals at various points.
All ICS are mounted on IC Sockets.
Bare board Tested Glass Epoxy SMOBC PCB is used.
Attractive ABS Plastic Enclosure.
Set of 4mm Patch cords for interconnections
Normal operation temperature: -20 °C to +55 °C
User's Manual
PROGRAMMABLE LOGIC CONTROLLER GOTT-PLC-238
CODE 238-000
DESCRIPTION
In today's environment of automation, the importance of PLC has rapidly increased. With growing demand for training in this area, GOTT has introduced several packages for PLC training. The standard package consists of PLC module, experiment PCB, power supply, programming and operating software and PC/PPI cable. Three configurations (A, B and C) are offered. Optional accessories include digital and analog expansion modules. FEATURES
Branded Micro PLC in easy to use form
Based on standard PLCs from GOTT
Use of IEC-1131-3 standard languages Ladder, STL & FBD for easy understanding
High execution speed
Exhaustive course material & References
Hardware and software included
PC Based computer programming facility
Easy downloading of programs
Extremely easy and student friendly software to develop different programs
Expandable input output
Built- in DC power supplies
Compact size
Manuals:
All manuals are written in English
Model Answer
Teaching Manuals
General Terms:
Accessories will be provided where applicable.
Manuals & Training will be provided where applicable.
Designs & Specifications are subject to change without notice.
We reserve the right to discontinue the manufacturing of any product.