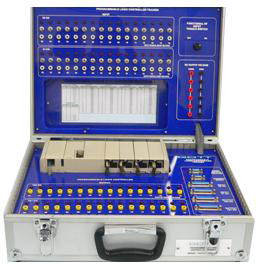 Omron PLC Trainer With Traffic Light System
Model Number : GOTT-OMRON-PLC-TLS-624
DESCRIPTION
GOTT-OMRON-PLC Is a complete training system, introducing the student to the operation, programming and troubleshooting of modern industrial programmable logic controllers. A complete curriculum is provided incorporating many learning activities related to basic sequence, circuit flow, ladder logic programming and trouble shooting. Many activities reflect realistic industrial applications. This product, together with its associated student manual and programming manual, creates a complete introductory course in OMRON PLCs, for industrial training applications as well as in the educational learning.
EXPERIMENT TOPICS:
Fundamentals of Logic
Programming Language
Developing Ladder Logic Programs
Programming timers
Structure of Control Systems
Sequencer Programs
Master Control & Zone Control Instructions
Programming Counters
Jump Instructions and Sub-routines
Combined Counter and Timer Functions
OMRON PLC Installation Practices
FEATURES
Works with Existing Equipment
Equipped with manual switches to simulate all inputs
Equipped with indication lights to simulate all outputs
Open system. Ready to communicate with personal PC
Accommodates other PLC Brands too
Easy and Portable
Short circuit protection
Allows for attachment to interface with other external devices.
Easy connecting ability to existing motor sensors, valves and switches through standard banana jacks
Can be combined with other control devices relating to industrial sensors and other mechatronics training equipment.
TECHNICAL SPECIFICATION
NO CONTENTS QTY.
1 Transport Detection Unit 8 unit
2 Crossing Detection Unit 4 unit
3 Junction Signal LED Indicator 4 set
4 Simulation Kit Base 1 set
5 OMRON PLC set 1 set
ITEM SUPPLY
OMRON Software
Training CD
Introduction CD
Manuals :
All manuals are written in English
Theory Manual
Teaching Manual
General Terms :
Accessories will be provided where applicable.
Manual & Training will be provided where applicable.
Design & specifications are subject to change without notice.
We reserve the right to discontinue the manufacturing of any product.