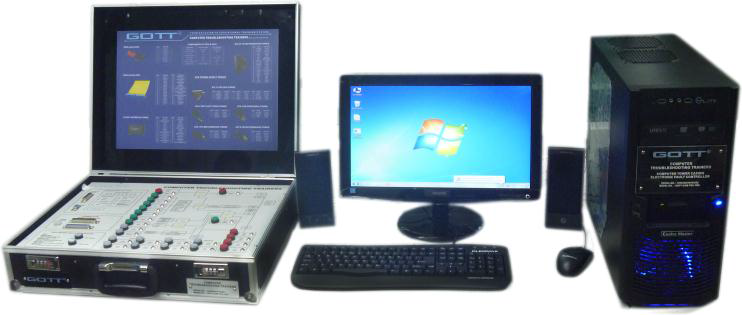 PC System Servicing Trainer
Model Number : GOTT-PCT-982
DESCRIPTION
PC System Servicing Trainer is an advanced training program which expands on the topics offered in our PC systems servicing course. Packed with theoretical information and hands-on experiments, the course enables students to master PC configuration and troubleshooting, using the latest hardware and operating systems. In the course, students learn to configure and upgrade systems with components such as memory, modems and sound cards. They also study advanced techniques for evaluating, isolating and identifying PC malfunctions down to the board, module and configuration level. Using our exclusive Fault Insertion and Removal Modules (FIRM), students assess their knowledge and diagnostic skills on a full range of complex malfunctions. Through hands-on exercises, students identify problem areas and explain how they reached their conclusion. This technique builds knowledge and promotes critical thinking.
FEATURES
This trainer includes step-by step diagnosis and troubleshooting procedures including:
Provide advanced training on configuration & troubleshooting
Simulation faults over the different modules of the computer
Hardware assembly and testing
Personal safety
Reference data
Unit tests
BIOS Post tests
PC Trainer configuration data
BIOS Screens
Keyboard Scan Codes
PC Diagnostic Card
Router
Serial & Parallel Port Tester
HARDWARE:
Motherboard
Center Processing Unit
Random Access Memory
Hard Disk Drive
DVD ROM
RAID Card
ATX Power Supply
Keyboard & Mouse
Sound Card
Graphic Card
Floppy Disk Drive
LCD Monitor
Stereo Headphone
Mouse Pad
ACCESSORIES
Industry-best textbooks
Workbooks and hands-on exercises
Fault Insertion & Removal Modules (FIRM)
Upgrade components (memory, modem, sound card)
Window XP installation Disc (Genuine)
Comprehensive assessment tools
Software Installation Disc
Speaker
Keyboard
Mouse
LCD monitor
Parts storage case
GENERAL SPECIFICATION
Operating Conditions – 0 to 45˚C, 85% or Less(R.H.)
Input power – AC 240V, 50/60Hz 1-Phase
EXPERIMENT TOPICS:
Parallel Port
Serial Port
PS/2
USB Port
VGA Card
RJ45 Lan Subsystem
Audio Subsystem
Floppy Disk Drive
Hard Disk Format
DVD ROM Drive
Central Processing Unit
Antivirus Simulation
Manuals :
All manuals are written in English
Model Answer
Teaching Manuals
General Terms:
Accessories will be provided where applicable.
Manuals & Training will be provided where applicable.
Designs & Specifications are subject to change without notice.
We reserve the right to discontinue the manufacturing of any product.
Warranty: 2 Years