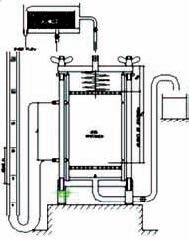 Permeability Test apparatus
The unit is ideal for determining co-efficient of
permeability of granular soils by a constant head
method and under conditions of laminar flow of
water. The unit is suitable for disturbed granular soil
containing less than 10% soil passing through 75
micron sieve.
The apparatus consists of a acrylic chamber with
approximate diameter of 350mm and length about
600mm, plugged at both ends by porous plates.
Monometer is provided for head measurement
between two points in the acrylic chamber.
Arrangement is also provided for constant head.