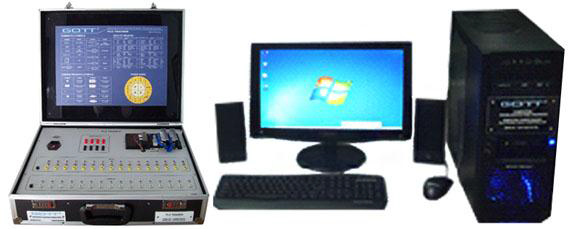 PLC Trainer
Model Number : GOTT-PLC-370
DESCRIPTION
This trainer is a complete training system, introducing the student to the operation, programming and troubleshooting of modern industrial programmable logic controllers.
A complete curriculum is provided incorporating many learning activities related to basic sequence, circuit flow, ladder logic programming and troubleshooting. Many activities reflect actual industrial applications.
An optional hand-held programming pendant, input/output devices and a wiring kit are provided, making the device complete and ready for use without the need for additional accessories or a link to PC base programming, monitoring and control.
This product, together with its associated student manual & programming manual, creates a complete introductory course in PLCs, for industrial training applications as well as in the educational learning.
A PLC (Programmable Logic Controller) is effectively a computer with I/O. The I/O (input/output modules) is a method of getting signals from the outside world into the computer and back again. The I/O is generally robust (so they can cope with noise and spikes). Also available are intelligent I/O cards (which effectively have a computer on the I/O card) for Intermediate Model and HMI devices (touch screen) for Advance Model.
STANDARD COMPONENT SPECIFICATION:
PLC MAIN UNIT
ITEM DESCRIPTION UNITS
Controller PLC main unit
Input 24V DC Input 16 ea
Output Relay Contact Output 16 ea
Programming Full programming features on
console (optional) back lit Two line LCD display 1 ea
Keypad Hand-held programmer
Cable Program download cable 1 ea
Memory 2K EEPROM memory 1 ea
Power Supply 24V DC 2.1A (short circuit protection) 1ea
EXPERIMENT TOPICS:
Fundamentals of Logic
PC communication
Developing Ladder Logic Programs
Programming Timers
Structure of Control Systems
Sequencer Programs
Master Control & Zone Control Instructions
Programming Counters
Jump Instructions & Sub-routines
Combined Counter & Timer Functions
PLC Installation Practices.
CONTROL PANEL
ITEM DESCRIPTION UNITS
Input Terminals 4mm ɸ Banana Jack 16 ea
Output Terminals 4mm ɸ Banana Jack 16 ea
Input Switches Toggle Switch 16 ea
Simulation Indicators LED 32 ea
DC Supply Terminal 24V DC +/- 2 ea
ACCESSORIES
Connecting cables for drive unit to switches, LED, relays & other peripherals
Connection leads
Experiment manual
Soft copy manual for easy print-out
Manuals:
All manuals are written in English
Model Answer
Teaching Manuals
General Terms:
Accessories will be provided where applicable
Manuals & Training will be provided where applicable.
Designs & Specifications are subject to change without notice.
We reserve the right to discontinue the manufacturing of any product.
Warranty: 2 Years