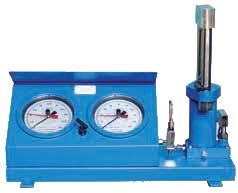 Point Load Tester (Bench Type)
The unit comprises of a base frame on which the frame assembly with the integral jack and two load gauges with isolating valves are fixed. The ram of the jack carries the lower cone while the upper cross head has the other loading cone. The cones are made as per IS 8764. Spacer blocks are provided to test samples ranging from EX size to 100 mm size. Maximum clearance between the two cones is approx 125 mm. Lower range gauge of 25 kN is provided for better sensitivity and 100 kN gauge reaches upto the maximum capacity.
ACCESSORIES
Load Gauge 25 kN
Load Gauge 100 kN
Rigid pipe
Oil seal for Hydraulic Jack.