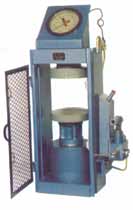 Portable Compression Testing Machines
For carrying out Compressive Strength Test on mortar and concrete cubes.
The frame is a totally welded type or pillartype to give structural stability. Even withsome eccentric loading, the frame's stability is not affected at all. The lower plate of the frame has integral jack/bolted jack and the upper plate carries the spherical seating.
A special type of pump with concentric plunger is attached to the loading unit. Pressure can be created to themaximum with minimum possible effort. The outer plunger is for filling the gapwithout taking load and gets automatically disconnected on closing of the gap.
Pressure gauge is fixed at an angle for the ease of readings and is calibrated against standard dynamometer calibrated by either NPL or NCCBM.
Accuracy of the machine is maintained within ±2% as per IS 516, BS 1610 grade Ior on special request can be calibrated asper BS 1881, DIN 51220.