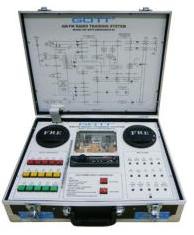 Power Amplifier Training System
Model Number : GOTT-PAT-35
Brand: GOTT
DESCRIPTION:
Power Amplifier Training System designed to provide training opportunities for a typical audio power amplifier with general features such as equalizers, level indicators and pre-amps. It can be used together with oscilloscopes, wave generator and audio generator to perform essential functions and training to the students.
FEATURES
Protection against short circuits
Tone control : bass and treble
Loudness control
Balance adjustment
Subsonic filter
6 audio inputs
Source Direct (to listen directly to the input signal)
Headphone output
Non-vibration chassis
Total harmonic distortion : less than 0.008% (at 10 W output)
Frequency response : TUNER, CD, AUX, TAPE1/DAT, TAPE2/MD : 7 Hz -70 kHz ± 0.3 dB
S/N ratio TUNER, CD, AUX, TAPE1/DAT, TAPE2/MD : 105 dB
FAULT SIMULATOR :
The fault simulator manipulates electric points of the amplifier, allowing to simulate a large number of real faults.
ACCESSORIES :
User's Manual
Training Manual
Electrical Diagrams
GENERAL SPECIFICATION
Operating Temperature- 0 to 45°C, 85% or Less(R.H.)
Input power- AC 240V, 50Hz 1-Phase
BLOCK DIAGRAM
Power Supply
Tuner Input
Aux Input
CD/VCD Input
DVD/AC-3 Input
MIC Input
Surround
LED Disable
Fault Reset
Speaker Function
Each one of the functional sections has several test points which permit the analysis and monitoring of the main electrical signals of the amplifier safe to operate, all the test points are protected against possible accidental short-circuits.
EXPERIMENT TOPIC
To disable the Tuner Input
To disable the Auxiliary Input
To disable the CD/VCD Input
To disable the DVD/AC3 Input
To disable the Microphone Input
To disable the Left Speaker Output
To disable the Right Speaker Output
To disable the Surround Left Speaker Output
To disable the Surround Right Speaker Output
To disable the Center Speaker Output
To disable the 13 volts AC supply for the Power Amplifier
To disable the 5 volts DC supply for function switches
To disable the 3 volts AC supply for Display Panel
To disable the 12 volts DC supply controlling the various volume controls
Manuals :
All manuals are written in English.
Model Answer
Teaching Manuals
General Terms :
Accessories will be provided where applicable
Manuals & Training will be provided where applicable
Designs & Specifications are subject to change without notice
We reserve the right to discontinue the manufacturing of any product
Warranty : 2 Years