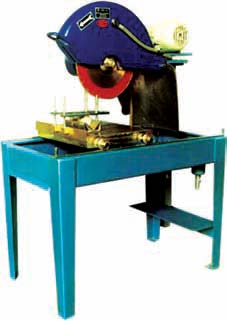 Rock Cutting Machine
Rock Cutting Machine can be used to cut cores of varied sizes of concrete, stones, other building materials and metallic specimens.
Sturdy ball bearing loaded table carrying the clamped specimen is pushed towards the rotating diamond saw. The diamond saw is powered by a 2 H.P. motor operating on 440 volts 3 phase supply which rotates it at approximately 2000 RPM. Depth of the cut is adjusted by pressing blade carriage. It can be locked in position with the help of a lever. Height is adjusted through the 'D' slot provided. Blade can be clamped in any position.
For wet cutting a coolant pump and tank is supplied along with the machine. Pump gives a discharge of approximately 600 litres/hour. Machine sump helps in the recirculation of the used coolant.
Machine proper is supplied without blade.