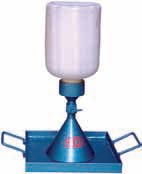 Sand Density Cone
containing particles not greater than 2 inch in
diameter. The equipment
consists of a brass
cone provided with
flange at the bottom
and a valve at the top.
It is provided with another
cone at the top of
the valve with arrangement
to attach a standard
plastic sand jug.
Supplied complete with
a density plate and one
sand jug with an adopter
for attaching the
standard plastic sand
jug.
ACCESSORIES :
HS14.16.1 Plastic Sand Jug.
HS14.16.2 Density Plate.