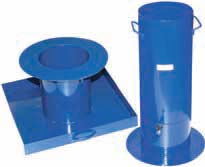 Sand Pouring Cylinder, (Large)
The apparatus is suitable for estimation of field
density of fine, medium and coarsegrained soils,
as per IS : 2720 (part XXVIII) and consists of:-
FIELD DENSITY, SPECIFIC GRAVITY & RELATIVE DENSITY
In-situ density of soil is an important parameter for soil engineers. This is needed for determination of bearing
capacity of soils, stability analysis, natural slopes and for determining degree of compaction of fills.
Indian standards specify two different methods for in-situ density determination ; core cutter method for fine
grained soils free from aggregates and the sand replacement method for fine, medium and coarse grained soils
having stones and pebbles etc.
The apparatus for sand replacement method as specified in ASTM D-1556 is also covered in our range of
equipment.
S-13
i) Sand Pouring Cylinder, 215 mm internal dia, with
conical funnel and shutter.
ii) Calibrating container 200 mm inner dia x 250 mm
high with 75 mm wide flange.
iii) Metal tray 450 mm square x 50 mm deep with a
200 mm dia hole at the centre.
ACCESSORIES :
HS14.15.1 Metal tray 450 mm square x 50 mm
deep without hole.
HS14.15.2 Glass plate 600 mm square x 10 mm
thick.
HS14.10.3 Dibber.
HS14.10.4 Scrapper.