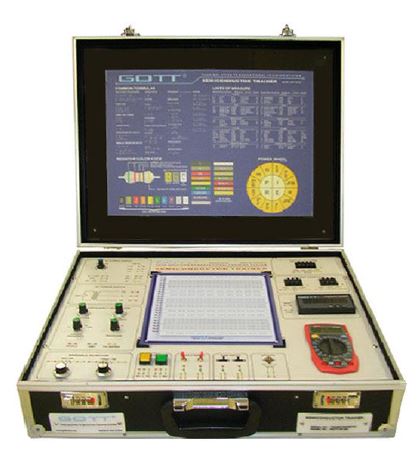 Semiconductor Trainer
Model:GOTT-SEMICON-24
Brand: GOTT
C/O: Malaysia
DESCRIPTION
The semiconductor trainer GOTT-SEMICON-24 offers a complete set of experiments related with semiconductor based analog circuits. Due to the built-in instrumentation functions such as an AF generator, a frequency counter, a multimeter and a tracking power supply, the trainer GOTT-SEMICON-24 is a complete experimental tool by itself. The built-in multi-function features also increase experiment efficiency by reducing the time spent in preparation and keeping all the hardware well organized. An easy to follow, step-by-step experimental manual will guide the user through each experiment.
FEATURES
All the necessary components are provided in the trainer. It extremely easy to change circuit values and to see the impact on the circuit performance.
Two 3 digits decade capacitors and three BCD programmable resistors are provided in the unit.
These components provide the accuracy needed in the circuit.
Two variable resistors are provided in the unit. These resistors are used to adjust the input and output levels, time constants and bias outputs.
The large size breadboard in the trainer provides ample room even for a complex circuit. Jumper wire connections between nodes eliminate soldering.
SPECIFICATION
MAIN UNIT
DC Outputs ±0~15V Dual Output
Decade Capacitors : 100pF~0.1μF (3 digits) 1000pF~1μF (3 digits)
Decade Resistors : 1kΩ~15kΩ 10kΩ~150kΩ 100kΩ~1.5MΩ 10Hz~100kHz (in 4 ranges)
AF Generator (Digital Display) : Output: 1V/10V (in 2 ranges) Waveform: Sine, Square
Multi-tester : DC : 10mV~20V, (Imp.: 10MΩ)(3½digits) AC : 10mV~20V (rms) Resistance : 10Ω~2MΩ Protection DC O/L Alarm & Indication
AC Output 30VCT(15V+15V) 0.1A max
Variable Resistors: 0~1000Ω(3W) 0~100kΩ(1W)
Switches Slide, Push, SPDT-Toggle
Input Power : AC 110/240V 50~60Hz
EXPERIMENT MODULES BREADBOARD (STANDARD MODULE)
CODE-624-657
EXPERIMENT TOPICS:
Pulse Distortion and Propagation Delay
Operational Amplifiers: Amplifiers and Inverters
Operational Amplifiers: Voltage Comparators
Schmitt-Trigger Gates
Monostable Multivibrators
555 Timer : Astable Operation
P-N Junction Diode Characteristics
Electronic Voltage-regulated Power Supply
Diode Rectifier
Low Pass Filter
High Pass Filter
NPN and PNP
Electronic Components
Manuals:
All manuals are written in English
Model Answer
Teaching Manuals
General Terms:
Accessories will be provided where applicable.
Manuals & Training will be provided where applicable.
Designs & Specifications are subject to change without notice.
We reserve the right to discontinue the manufacturing of any product