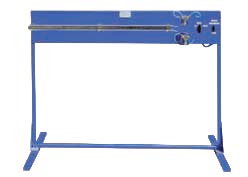 Sensitive Volume Change Gauge
Specially designed for research purpose, he volume changes of the order of 0.003 cc can be measured during slow triaxial tests. It consists of a long capillary tubing about 2 mm inside diameter, fixed along a scale.
The ends of the tubing connected through mercury traps to a valve manifold from which the direction of fluid flow in the capillary tubing can be reversed without
affecting the precision of the test.
Directional control valve with flow reversing facility and by-pasing the volume change unit is provided as standard.
Capacity of gauge is about 6 cc per cycle and can withstand a pressure of 21 kg/cm2.