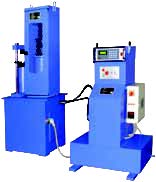 The system is totally servo controlled with the facility of running one unit at a time either compression unit for testing 40mm cubes or flexure unit for testing specimen size 40 x 40x 160mm.
Principle of operation is based on Closed loop Principle. The Close loop Principle is : –
A signal is generated on the ramp generator. Feed back signal is generated by the system. Both the Signals are processed at a speed of 10kHz in P.I.D. controller. Resultant Signal is passed on to the Servo Valve keeping the system within + 2% of the Programmed value.