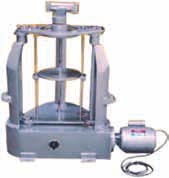 Sieve Shaker – Motorised RO-TAP
The sieve shaker has a circular motion com combined with a periodic tapping action at the top of sieve holder. It accommodates upto seven sieves of 200 mm dia. The gear mechanism is enclosed in a box filled with grease for care free operation. Eccentrics and cams at the top need oiling.
Suitable for operation on 220V, 50 Hz, Single phase supply.
ACCESSORIES:
Time switch adjustable from 0- 60 minutes in 5 minute intervals. HS31.515.4 Digital timer 0-99 x 1 minute