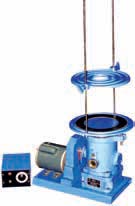 Sieve Shaker – Motorised
Having a sturdy cast iron body, the sieve shaker has an inclined sieve table that can accommodate a maximum of seven sieves of 150 mm or 200 mm diameter. To hold the sieves an adjustable top clamping plate is provided. The table has a gyratory motion in addition to tapping action. The operating gear assembly is enclosed in an oil bath fitted with a transparent oil level indicator window.
Suitable for operation on 220 V, 50 Hz, single-phase supply.
ACCESSORIES:
Time switch adjustable from 0-60 minutes in 5-minute intervals.
Adapter for 300 mm dia sieves.
Digital time switch 0-99 minutes with 1-minute sensitivity.