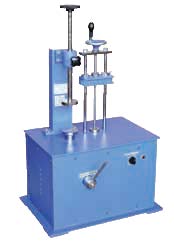 Soil Trimmer (Motorised)
For preparation of undisturbed samples varying from
38 to 100 mm dia of different dimensions for triaxial
tests.
The equipment is supplied along with 38, 50, 75 and
100mm dia specimen rings (1 no. of each ) and a
hardened steel trimming knife. Suitable for 220V, 50
Hz, single Phase supply.
ACCESSORIES:
HS16.30.1 Hardened steel trimming knife.