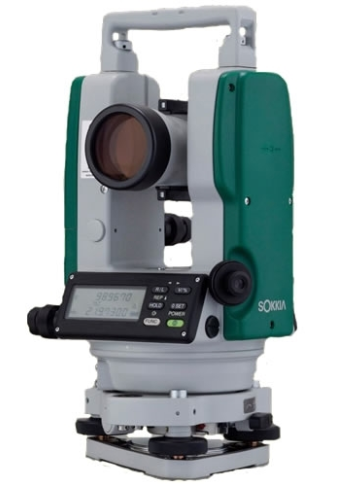 Digital Theodolite
Model: DT 540
Brand: Sokkia
C/O: Japan
Technical Specification:
Additional Accessories:
1x Myzox Aluminum Tripod-Japan
LR6 /AA Batteries
Lens cap
Plumb Bob
Tool Kit
Operation manual
Carrying case and shoulder strap
Laser Pointer
Laser Range: Daylight- indoor (700Lux)
Telescope:
Length- 149mm (5.9in.)
Objective Aperture: 40mm (1.6in.)
Magnification: 30x
Resolving Power: 2.5"
Image/ Field of view: Erect / 1°30' (26m/1000m)
Minimum Focus: 0.9m (3.0 ft.)
Stadia: Multification Constant- 100, Additive Constant: 0
Reticle Illumination: Y
Angle Measurement:
Method: Absolute rotary encoder scanning
Detecting: Diametrical- Horizontal and vertical
Display Resolutions: 1"/5", 0.2/1mgon
Accuracy: 2"
Circle Diameter: 71mm (2.8in.)
Automatic Compensation Range: ±3' (±554mgon)
General:
Control Panel Layout: On both faces
Display: LCD, 7 digits x 2 Lines, Backlight
Interface: RS-232C
Optical Plummet: Magification 3x, Field of view: 3°, Minimum Focus: 0.5m (1.64ft.)
Sensitivity of levels: Plate level and Circular level 40"/2mm
Tribrach: Detachable
Operating temperature: -20 to +50°C (-4 to +122°F)
Dust and water Protection: IP66(IEC 60529:2001)
Size (w/ Handle): W188*D149*H313mm (W7.4*D5.9*H12.3in.)
Weight (w/ Batteries): 4.1kg (9.0Ib)
Power Supply:
Battery: LR6/AA batteries*4
Operating Time: w/ alkaline batteries at 20°C (68°F) : Approx. 140Hrs.