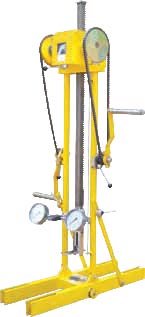 Static Cone Penetrometer, Hand Operated, 30 kN (3000 kgf.) Capacity
The unit incorporates a two speed geared drive assembly and is provided with two handles for ease of operation. The essential features are a frame to which is mounted a two column structure. The cross head carries the winch mechanism with a pinion driving a long travel geared rack.
The unit is supplied complete with:
Screw type anchors for reaction complete with fixtures. 4 Nos.
Mantle tubes one meter long with conical threads, 36 mm non-uniform diameter -15 Nos.
Sounding rods, one meter long 15 Nos.
Pressure Gauges, 150 mm dia 0-60 & 160 kgf/cm2 – 1 No. each
Cone with friction jacket 10 cm2 base area – 1 No.
Cone without friction jacket 10 cm2 base area – 1 No.
Set of tools for the unit – 1 set.
Automatic cut-off device for pressure Gauge – 1 No.
ACCESSORIES :
Mantle tube, 36 mm uniform diameter .
Cone with friction jacket, 10 cm2 base area
Cone without friction jacket, 10 cm2 base area
Pressure Gauge 0-60kg/cm2
Pressure gauge 160kg/cm2