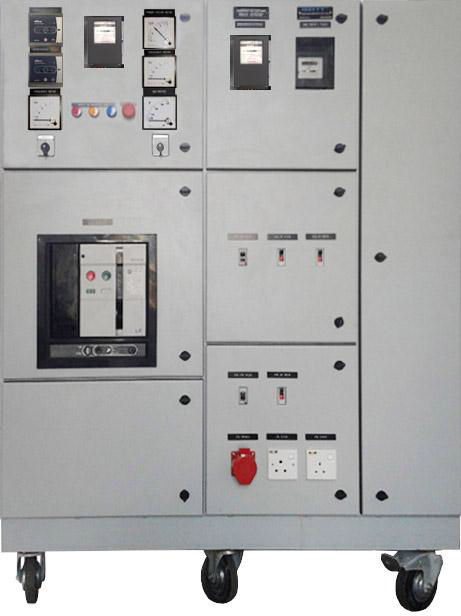 Switchboard Demonstrator Unit
Model: GTT-SDU-3001
Brand: GOTT
Brand: Malaysia
Description
This is a standard industrial LT switchboard but specially adapted to function as a training unit. It enables switchgears, instrument and protective gears used in normal switchboard to be demonstrated and their functions explained. It is an excellent practice units for students to study its circuitry and function. Compartment doors/covers are hinged and the screws can be opened manually by hand
Instrument & Protective Gears
Air Circuit Breaker 600A TP&N with Overload and Shunt trip coils
Ammeter 100A/5A with selector switch
Voltmeter 500V with selector switch
Earth Fault Relay
Frequency Meter
Power Factor Meter
Maximum Demand Indicator
Emergency Stop Button
KWH Meter 3 Phase
KWH Meter 1 Phase
Circuit Breaker 30A
Circuit Breaker 20A
Circuit Breaker 6A SP
CEE socket
BS 1363 Socket
6A Protector MCB
Copper Bus Bars 1/4″×1″
Indicating Lights
With rear Door for each Compartment
With Castor Wheels
Over Current relay
INSTRUMENTS & PROTECTIVE GEARS
DISTRIBUTION :
30A 415V TP
6A MCB (Miniature Circuit Breaker)
Output 415V, 240V 15A & 240V 13A
CONSTRUCTION
Console: Heavy Sheet Steel
Finish: Baked epoxy powder in matching grey
Marking: Engraved or silk-screened legends
LITERATURES
1 – Operating/Instruction Manual/Wiring Diagram
TECHNICAL SPECIFICATIONS
Input: 415VAC, 60A, 3-phase, 50Hz
Output: Power – 415VAC x 32A
Lighting: 240V 13A
Single Phase Power: 240V 15A
Manuals :
All manuals are written in English
Operation Manuals
General Terms :
Accessories will be provided where applicable.
Manual & Training will be provided where applicable.
Design & specifications are subject to change without notice.
We reserve the right to discontinue the manufacturing of any product.