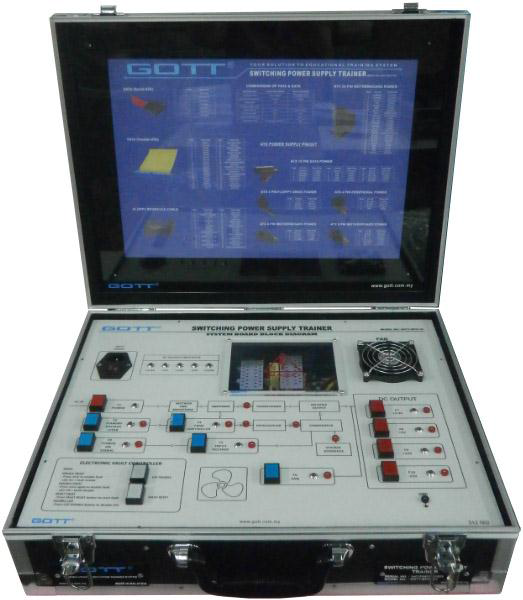 Switching Power Supply Trainer
Model Number : GOTT-SPST-01
DESCRIPTION
The SWITCHING POWER SUPPLY TRAINER is designed to instruct service technicians in the operation, theory, servicing, problem diagnosis and repair of the key devices and components used in Information Technology. The trainer is based upon Switching Power Supply and components which has been modified to facilitate training and have a special electronic fault insertion system.
PRODUCT FEATURES
FEATURES OF THE SYSTEM
Can be connected to GOTT's trainers and function as an additional Switching Power Supply
Special casing and mounting of power supply
Circuit block diagram of showing the function of the unit
Electronic Fault Controller is built into the trainer for student instruction purposes
CURICULUM COVERAGE
This trainer includes step-by-step diagnosis and troubleshooting procedures including:
Hardware Assembly and Testing
Personal Safety
Block Diagram
Schematic Diagram
Troubleshooting Procedures
Common Fault Simulation Testing
Reference Data
Half/full wave, filter, zener & IC, regulator)
TRAINER DISASSEMBLY
At the end of the course, the student uses the step-by-step illustrated instructions in the Experiment Manual to disassemble the trainer and prepare it for the next class.
BLOCK DIAGRAM
Switching
PWM Generation
Transformer
Optometric
Power On Signal
Standby Voltage Signal
Comparator
Output Rectifier
Reference Voltage
Load Fan
ELECTRONIC FAULT CONTROLLER
LED to indicate the nature and location of the fault on the Block Diagram
Enabled when touching the push button; Disabled when touching the push button again
Single or multiple faults can be introduced at any time
Activated faults are visible as the corresponding LED illuminates on the fault board
LEDs can be switched off thereby not allowing the student to know where the fault is, this feature is ideal for testing the student's troubleshooting ability
Single press for Fault Reset
GENERAL SPECIFICATION
OPERATION CONDITION
0°C to 45°C , 85% or Less (R.H.)
INPUT POWER
AC 220V – 240V, 50/60Hz, 1-Phase (or AC 110V, 50/60Hz 1-Phase by Order)
Manuals :
All manuals are written in English
Theory Manual
Experiment Manual
General Terms :
Accessories will be provided where applicable.
Manual & Training will be provided where applicable.
Design & specifications are subject to change without notice.
We reserve the right to discontinue the manufacturing of any product.
Warranty: 2 Years