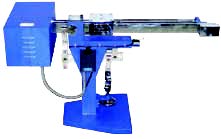 Tensile Strength Tester, Hand Operated BS:12
Used for estimation of tensile strength of cement briquettes.
The equipment comprises the following :-
A loading machine, double lever type, with a steel scale marked from 0 to 500 Newtons in 10 Newton division. Maximum loading capacity 5 kN. Automatic loading system using lead shot.
Lead shot 15 kg.
Set of weights for weighing lead shot comprising one each for weighing upto 0.5 kN, 1 kN, 1.5 kN and 2 kN.
One standard briquette mould with base plate.
ACCESSORIES :
Lead Shot 15 kg.