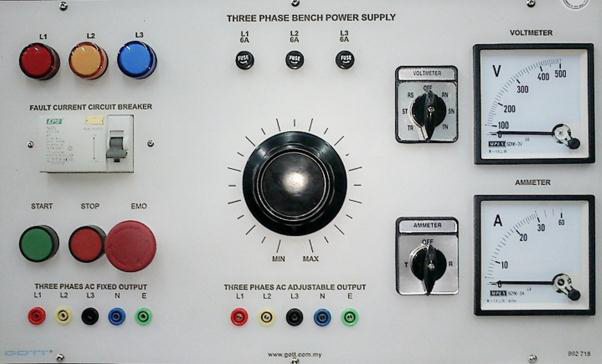 Three Phase Bench Power Supply
Model Number : GOTT-TPBP-992
Brand: GOTT
C/O: Malaysia
DESCRIPTION
This unit has been designed to provide all fixed and variable AC and DC power supplies which are necessary in an electrical machines laboratory to perform the experiment required and work project. The unit is inside contained in a metal housing with clear front panel identification and 4 mm safety sockets that make it easy and safe to use.
PRODUCT FEATURES
Earth leakage protection, tripping at 30mA fault current.
Touch-proof color coded safety socket.
Circuit breaker protections with built in delayed over load and instantaneous short circuit tripping elements.
Ammeter with 100% overload scale.
ACCESSORIES
Operation Manual
5 M length input Cable and 3 pin plug.
Dimensions :Approx. 470L x 360H x 250D
GENERAL SPECIFICATION
Power Requirement -240 / 415 VAC, 5Amp Single phase 50Hz
Connection – 3P+N+PE TECHNICAL
SPECIFICATION
Three Phase AC Adjustable Output -0-240 / 415VAC; 1A With On / Off Switch, Over Load Protection With Voltmeter and Ammeter Indicated.
Manuals:
All manuals are written in English
Operation Manuals
General Terms:
Accessories will be provided where applicable.
Manuals & Training will be provided where applicable.
Designs & Specifications are subject to change without notice.
We reserve the right to discontinue the manufacturing of any product.
Warranty : 2 Years