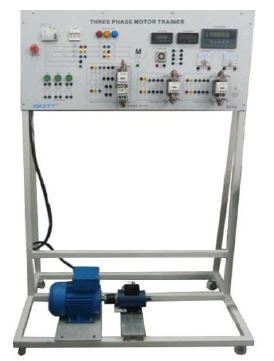 Three Phase Motor Trainer
Model Number : GOTT-TPH-035
Brand: GOTT
C/O: Malaysia
DESCRIPTION
This Three Phase Motor Trainer represents a cross section of common industrial motors. Each motor module includes a welded aluminum mounting baseplate, aluminum control box support structure, and a steel control enclosure. All motor wiring is accomplished through banana jack receptacles on the control enclosure's front panel face. Each unit comes equipped with an appropriate voltmeter and ammeter. Four instructor fault insertion switches are provided on each motor module. An optional motor loading module attaches to each motor unit using a flexible coupling provided with the loading module.
SPECIFICATION
Type : Squirrel-cage, 415V, 50Hz, 1 HP, 1440rpm
Input Voltage : Three Phase 415VAC
Protection : 40A
Sensitivity : 30mA
Wattmeter range : 1000W
Ammeter range : 10A
Voltmeter range : 500 V
Tachometer range : 10000rpm
Torque meter range : 20Nm
The trainer is capable of performing the following practical activities : Forward and Reverse, No Load Test, Block Rotor Test, Slip Measurement, Load Test, Wye-Delta with Timer, On-Delay, Off-Delay
EXPERIMENT TOPICS :
Start / Stop Motor Control
Start / Jog / Stop Motor Control
Forward / Reverse Motor Control
Stop / Forward / Reverse Motor Control
Wye-Delta Motor Control
No-Load Test
Lock Rotor or Block Rotor Test
Manuals:
All manuals are written in English
Model Answer
Teaching Manuals
General Terms:
Accessories will be provided where applicable.
Manuals & Training will be provided where applicable.
Designs & Specifications are subject to change without notice.
We reserve the right to discontinue the manufacturing of any product.
Warranty: 2 Years