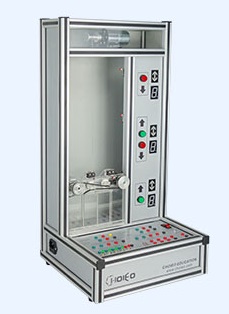 Details
The model simulates a lift system with 3 floors and each floor can be selected from an operating panel and from each floor. Thanks to the open design of this unit, each movement sequence can be checked visually via transparent lift car unit and whole structure complete aluminium profile frame.
DC gear motors as the power source and limit switches as the position signal, forming a complete control logic of lift control system, with all terminals led out to 2mm sockets.
Nixie tube of 7-segment display and double sided arrow are used for lift car position and direction indication.
Training Content
Nixie tube programming logic
DC gear motor control
Limit switch positioning control
Mechanical structure of three-story lift