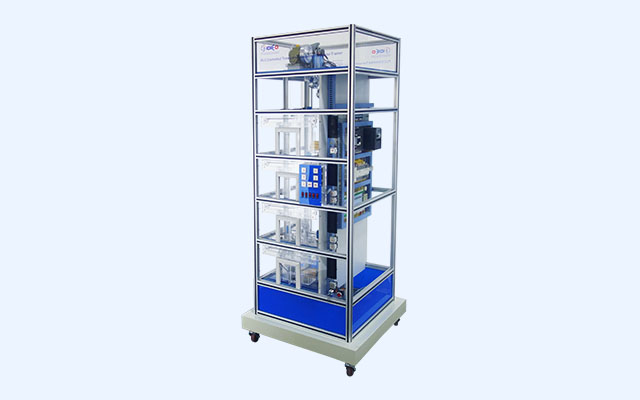 Overview
• The unit simulates an 4-floor elevator system with full functions, but using a complete transparent open structure
making all inner motions visible, the size of it is miniaturized to height of 1850mm, ideal for demonstration and
operation of complete elevator system in a limited space.
• It has the same working principle as actual elevator, with overspeed safety protection function, lift car and
counter-weight spring buffer mechanism, door safety shoe protection mechanism, door motor torque protection
mechanism, landing door automatic closing function and terminal limit switch safety protection system.
counter-weight spring buffer device.
• Programmable logic controller is used as the main control unit, with variable frequency drive for AC motor
control. Designed with fault setting system available for system fault simulation up to 32 quantity.
TRAINING CONTENT
Elevator startup, speed up and full speed running
Elevator chief components and related mounting position
Elevator floor positioning
Elevator traction system and positioning device
Elevator stop signal generating, signal recording and clearance
Elevator emergency cut-off
Elevator safety protection
Sound signal and indicator light
Lift car and door motor mechanism
Auto/manual working state selection
The running direction maintenance and change
Fault and electrical schematic diagram
High-speed demonstration and manual leveling
Guide rail, guide shoe and counter-weight
Automatic door opening/closing
Elevator drive mechanism
Elevator lift car lighting and air exhaust
Elevator safety device
Elevator stop, speed down and leveling